In the 1800s in rural Ireland, people weren't about to get creative with their children's names. They drew on a very small number of popular names when baptizing their children, often using an Irish naming convention that named the children after their parents and older siblings. It's not uncommon to find families in which a man's mother, wife, and daughter are all named Bridget. This can be a problem when researching a common surname in small Irish towns, most of which didn't have street addresses in use at that time. And even if they did, Irish records, which are notoriously sparse, probably wouldn't have included them! 
So it can be difficult to figure out who is who when building your Irish family tree. On Ancestry, I often see trees that have been built with the help of "hints," where users have blindly accepted automated suggestions that can't tell the difference between any of the 35 Pat Murphys born in Cork around 1885 (yes, there really were 35 Patrick Murphys born in Cork between 1884 and 1886). So it's easy to accidentally start building trees with the completely wrong people, and it's worth slowing down to make sure that you're on the right track. 
When I was researching my great great grandmother's family from County Kerry, from I knew from church records that she had a sister named Catherine Stack who was baptized on April 24, 1844 in Ballybunion parish, the daughter of Philip Stack and Mary Molony. I also knew that Catherine later married someone named Collins, because in her brother's 1928 obituary from Pittsburgh it says he is survived by his sister, Mrs. Catherine Collins. She was one of the only members of the Stack family to stay in Ireland, so I was eager to find out more about her.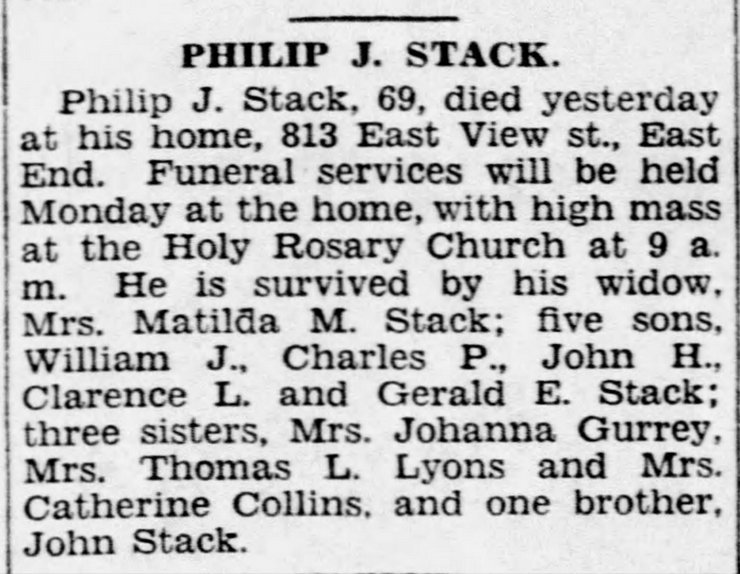 I found a detailed family tree on Ancestry that showed Catherine Collins living with her family on or near the same property where my great great grandmother had been born. But on this family tree, Catherine Collins was not the daughter of Philip Stack, but was confusingly listed as the daughter of Thomas Stack. So who was this woman, and why was she living in my ancestral home, and where was my great great grandmother's sister Catherine? 
It turned out unraveling this small question was a lot more complicated than I expected. There were two couples named Catherine Stack and Thomas Collins who were married in Ballybunion parish around the same time, their records were very easily mixed up. 
The first couple named Catherine Stack and Thomas Collins was married on February 19, 1867, and Thomas is listed as being from Lyre. The witnesses were Edmund Collins and Thomas Stack and the witnesses are listed as being the fathers of the bride and groom.
The second marriage between a Catherine Stack and a Thomas Collins took place on April 30, 1871, and I was able to to find both the Catholic church and civil record of the marriage. The church record offers a bit more information. Catherine Stack, daughter of Philip Stack, both of "Dirreenavack (Coolcaorach)" was wed to Thomas Collins, son of John Collins, both of Ballydonoghue.

So I know that the second marriage was my great great grandmother's sister Catherine, but that still didn't help me figure out what happened to her. There were 10 children born to Catherine Stack and Thomas Collins between 1868 and 1888 in Ballybunion parish, and it's not clear which children belonged to which couple. The ones born before 1871 obviously came from the earlier marriage, but how to know which the others belonged to? It turns out we can find the answers if we fast-forward to the 1901 census.
The following are the list of baptisms and dates in Ballybunion parish:
Thomas Collins baptised on 13 Feb 1868
Mary Collins of Lyre baptised on 18 Dec 1869
Daniel Collins of Lire baptised on 11 May 1871
Mary Collins of Ballydonoghue on 1 June 1872
Edmund Collins of Lyre on 1 Jan 1873
Catherine Collins of Liselton on 21 July 1874
Michael Collins of Lyre on 21 Sept 1879
Patrick Collins of Lehanes on 29 Jan 1882
Richard Collins of Coolard on 10 Aug 1884
William S. Collins of Lehanes on 16 Dec 1888
There is additionally another civil record of another child born to Thomas Collins and Catherine Stack:
Honoria Collins of Ballydonoghue, 4 Oct 1873. Johanna Stack present at birth
On the 1901 census, there is a Thomas and Kate Collins living in Lyre with two children, Richard, born about 1885, and William, born about 1889. The same couple is living in Lyre in 1911 with son Richard, who was born about 1884 (only the age is given, so the birth years are just estimates). On the 1911 census, it says the couple had 10 children, of which nine are living.

In 1901 there is another Kate Collins, living in Coolkeragh with her two daughters, Nora (a nickname for Honora) Collins and Maria Stack, along with her son-in-law William Stack and the couple's two children. (Maria is the Latin version of Mary, which is used in many Roman Catholic records in Ireland, although most Marias there went by Mary — this one apparently did not) Catherine is listed as widow who was born about 1845. In the 1911 census she is listed as being born about 1846 and is living with her daughter Maria, son-in-law William Stack, and their six children. Interestingly, she is listed as having only had two children born alive, both of whom are still currently living. This means that her daughters Nora and Maria, whom she lived with in 1901, were her only children. 

Which leaves the other nine baptisms to the couple, who had nine living children. The first Thomas Collins was originally from Lyre, and the second Catherine Stack was from Coolkeragh, and it appears that they both had the good sense to live out their golden years in their home villages. Both of the second Catherine Stack's daughters were born in Ballylongford, but it appears that her husband died when he was young, and she moved with her daughters back into her family home in Coolkeragh. In other words, all of the family trees I had found on Ancestry listing the other Catherine Stack Collins living in Coolkeragh were wrong. 
Only later, after I spent a considerable amount of time piecing this together, did I find a family tree, prepared by Catherine's niece, Catherine A.V. Lyons, who was named after her and visited the "old country" several times. When I say that I "found" this document, what I really mean is that I badgered complete strangers who had trees online mentioning any Stacks from Coolkeragh, relentlessly. But if you shake the family tree enough, sometimes some fruit falls out, like this outstanding family tree that was full of the little details that you'll rarely find through records alone. (Thank you, Melanie, for digging this out for me!)
Catherine's entry on the family tree read:
Catherine (Kate) Stack Married Thomas O'Collins (Collins) from Ballydonough near Listowel. He was Sacritan of the Church in Listowel. Kate was an expert seamstress. When Tom Collins died, she with her two daughters had a dressmaking "establishment" in Listowel. She lived in the old home. She was active in her community, working for the freedom of Ireland for DeValero.  She died in June 1937 at the age of 95 years; it is said that she had few gray hairs. 
So now, I think, we have conclusive proof of which Catherine Stack Collins lived out her days in Coolkeragh (while looking radiantly young to boot).
What did I learn from this, the first mystery I encountered in my Irish research? Don't take anything for granted. Pay close attention to the townlands listed in the residence and location sections of documents. Almost every mistake I see on Ancestry trees is from people assuming that the record they have found for Mary Murphy from Coolbeha must be the same as their relative Mary Murphy from Coolard. Trust me, she's probably not.
Are you researching the Stacks of Coolkeragh? Get in touch.